| | |
| --- | --- |
| | Miscellaneous Keychain Virtual Pets |
The great success of the Tamagotchi "key chain pet" has brought many "look alikes" into the arena. Most of them are made in Asia and several may see only limited sales in the U.S. We have only "bits and pieces" of information about some of them and post what we have on this page along with some links to additional information about them. All of them appear colorful and interesting.
Most of these graphics have been "borrowed" from other web sites. We reference the original sites and encourage you to visit them for additional information. We thank those who have gathered and posted virtual pet information around the world. We are just trying to "log" the various keychain pets here.
Chicknoch and Dinopet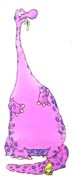 These two virtual pets were being offered for sale by an individual at http://cortex.snapshot.com/~geodi/tama.html. The chicken has a growth chart simlar to some of the Tamagotchi growth charts I have seen. It is reproduced below.
Chickling
This near replica of the Tamagotchi was being offered by a firm called, Unigain Trading Co. of Taiwan with and interesting disclaimer on their page, "This product is not a Tamagotchi ('virtual pet') and any resemblance to Tamagotchi ('virtual pet') is incidental.".

You can see it on their website.
Electronic Pet Website Virtual Pets
A site called "Electronic Pet" offers many keychain pets for sale to distributors. Their pets include: Dog, Nekotcha (cat), Dinosaur, My Dino, My Cat, My Dog, Dino X (Pocket Dino), and Penguin. Photos of these pets and some of their packaging are shown below. For additional information and much larger versions of these graphics, see the Electronic Pet website.
Nekotcha and Dog Keychain Pets and Packaging

| | | | |
| --- | --- | --- | --- |
| | | | |
| Nekotcha | Nekotcha Packaging | Dog | Dog Packaging |
---
Dinosaur, My Dino, My Cat Keychain Pets

| | | |
| --- | --- | --- |
| | | |
| Dinosaur | My Dino | My Cat |
---
My Dog, Dino-X, and Penguin Keychain Pets

| | | |
| --- | --- | --- |
| | | |
| My Dog | Dino-X | Penguin |
Electronic Pets were added to this site 11 June 1997
Robert's Classic Collector's Museum Web Site's Virtual Pets
Robert's Classic Collector's Museum web site has a page titled Japanese Keychain LCD Games Page. This page provides excellent coverage of several keychain virtual pets I have not seen elsewhere. In addition it shows several interesting games built on the similar keychain format. These pets are made in China, but referred to as Japanese Keychain Pets because they are made to be sold in Japan (Japanese packaging and instructions). The site provides nice large photos of the front and back of the packaging, plus many comments about the operation of the pets. To avoid infringing on Robert's fine site, I am only showing cropped and reduced graphics from his site with a few of his most significant comments. Please visit the Japanese Keychain LCD Games Page for much better graphics and a great description of operation of these virtual pets.
Gyaoppi Key Chain Pet

Dinosaur similar to Tamagotchi. Weather is an interesting addition to this pet. An umbrella, cap and muffler are available to combat rain, heat, and snow which influences pet health.

Kyouryu Game Gyao Tamagotchi Knockoff

Another "Tamagotchi like" dinosaur. It begins with a plain egg against a "Jurassic" backdrop.

Bird Watching

"Tamagotchi like". You raise a chick from an egg to an adult chicken. It also includes weather and a scarf, umbrella, and cap for your chicken.

Moshigo no Choubutsu

Another "Tamagotchi like" dinosaur. Very similar to Gyao pet described earlier.

Pocket Turtle

"Tamagotchi like" turtle. Similar to Gyao game described earlier. Your turtle must go to school in order to play and your turtle can add. No audible warning for needs, it does have an attention icon that lights up.

Ganbare!! Ryuuta-kun

"Tamagotchi like" dinosaur. Includes the weather functions and has a head sticking out the top. Robert's site reports there is also a more plain keychain model and a wristwatch version. He also says the game sound is very LOUD.

Virtual Pet

Very Similar to Tiger Giga-Pet Nano-Puppy. Robert's site reports he thinks the pet is very ugly, I thought the photo was very "cute".
Robert's Classic Collector's Museum Web Site's Virtual Pets
were added 12 June 1997
Kute-Pets Baby Dino
The information and photos below come from the Kute-Pets Baby Dino Page.

There are 10 different ways to look after him, such as feeding him, playing with him, putting his pajamas on before bed, teaching him to learn, etc. Of course, don't forget to take him to the bathroom. He will grow each day if he is well cared for or will die if he is neglected.
Kute-Pets Baby Dino was added 12 June 1997
This page was created 24 May 1997.