Wedding Pets

Linkable
Virtual Pets

&nbsp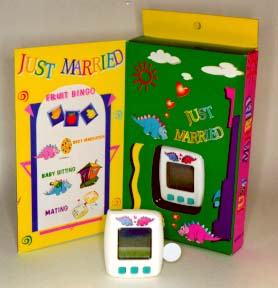 The Wedding Pets are a pair of dinosaurs that link together to mate. They are particularly interesting due to the "specifications" needed to mate. In order to have a "child" they must be one male and female (if you try to mate males to males or females to females, they bite each other) They can only have baby pets when they are at least 6 years old (they age a year a day like most pets) and are "in good mood, not hungry, and so on...".
The Wedding Pets also have a "Babysitting" feature. You can "leave your pet" with another one when you do not have time to care for it. One pet becomes the 'baby sitter" and the other one is "baby sat".
They play a 'Fruit Bingo" game where you try to stop the display when it has 3 of the same fruit in a row.
Food choices are rice and candy.
Other functions are: Medicine, Clean, Light, and Education.

Yang Ruey International Development Co., Ltd in Taiwan, sent us a pair of the Wedding Pets to test.
The first thing I noticed was how bright and pretty the packaging was. The boxes are really colorful. Each pet has a nice graphic of two dinosaurs and some hearts above its display. The pets themselves are rectangular in shape and a little "bulged" on the edges. This is the first pet I have tested that was shaped like a small pager or a beeper.
Note in the photo, you can see the small "link connector" stored near the bottom of the back of the pet.
The other end of the back of the pet has a pivotal piece, I was unable to determine its purpose. It looks like it is for a watch band connection or to attach the key chain. Perhaps it is to "prop up" the pet so it will stand on its own. If you try to "prop up" the pet with it, the pet is standing on its head. It looks like there is a place to install a similar pivoting piece on the "connector link" storage end also, so it is probably a watchband option. But if you put a watch band connection on the "connector link" storage end it might be difficult to get the "connector link" out of its storage place?
My units came with batteries in them and another set of batteries in the packaging, I am not sure if that is standard or not.
To start the pets, you just pull the "white tag" and set the clock. They hatch in just a few minutes. They have a "deeper" sound than some of the pets and don't sound so "irritating."
I tried the "baby sitting feature" several times and was never able to master it. The instructions are in 3 pieces (on the back of the box, on a folded piece of paper, and on an inserted piece of paper). They were a little bit confusing on exactly when to connect the pets during the process and I was not able to get it to work. I did have success the very first time I tried to "mate" the pets. I put 2 females together and they bit each other. Later, I put a young male and a young female together and they fought with their tails. The pets have to be 6 years old and in good health to mate and have a baby.

Over All Impressions
First I am a big fan of linking pets. I think it adds a lot of activities that are not present in other pets.

I thought the packaging was exceptionally beautiful.

I loved the large square buttons. My fingers are large, and I have trouble "finger nailing" the small buttons used on most pets. These buttons are great.

I liked the:

"pager shaped" cases. They are a nice change from the normal egg cases.

"sound" of the Wedding pets.

color of the pets (off white with aqua buttons). Even the recessed reset button on the back was aqua which helped distinguish it from the recessed screws.

You are not really "in control" of a linked pet. When they mate you see the same image on both screens and you cannot control them.

The nice large viewing area appears even bigger than it is due to the shape of the pet. I measured the cut out in the housing for the display (maximum area of the screen you see) and it was about .995 inches wide by .955 inches tall. For comparison, a U.S. gen 2 Tamagotchi is about .855 wide by .810 tall. If you compare the two resulting areas (.95 sq. inches for the Wedding Pets vs. .69 sq. inches for the Tamagotchi) the Wedding Pets have about a 37% larger viewing area.

With their large screen and large buttons they might especially be attractive to elderly adults who would like to learn more about virtual pets?

The "connector link" snaps into a recessed slot in the case for storing and seems very secure and protected there. I have some concern about the small "connector link" part being lost, bent, or in the worst case "eaten".

The battery cover has been designed with only one screw which makes it easier to take off (most pets have 2 battery cover screws).

Its nice to see linking monster pets (dinosaurs) involved in other activities than fighting.
I do wonder a little about their exact target market. When I think of dinosaurs I tend to think of boys and when I think of weddings I think of girls. Many of pets appeal to both genders and maybe that is their approach?

Overall I really liked the Wedding Pets. I do encourage parents to make sure they are comfortable with their children having a small part like the "connector link" and that it does not get "eaten" by one of their own little monsters.

Suggestions for Improvements
With this review, we are adding this new section, "Suggestions for Improvements", to our reviews. Many of these suggestions are very applicable to other pets as well. We are certainly not "picking on" this one. We are just offering some suggestions for the manufacturer to consider in possible revisions of this pet or in the design of future pets. Other manufacturers may also find these ideas useful.
Investigate ways of making the "linking connector" a permanent part to the pets so it is not a "loose" part.

Make the base of the pet just a little flater so it can "stand up" on its case. This would be a nice feature.

Make the baby sitter a "one pet" function. Have the baby sitter"in resident" inside your pet. You either bring her out or just "park" your pet there. Doing this would allow you to have your pet "baby sat" when you could not find a friend with one to baby sit. It would be a lot more convenient. I do think it is a great basic concept, I would just change the way it is done. If they did this, they might try to find another activity for the "link" such as the tennis or pong game played by Mulder and Scully.

Add some ability to control the pets while they are linked. Currently when they mate, you just watch the image on the screen. It would be nice to be able to control the pets by maybe selecting "date", "kiss", "slap" or something like that?

The instructions (like those of most virtual pets) could use a little help. I suggest they briefly describe the operation of the pet on the back of the box, put a set of easy to understand instructions on ONE folding piece of paper in the box, and also post those instructions on the internet. Also the choice of words in describing what it is that you clean up after your pet, could be improved to better blend with American culture. We do offer this service (Americanizing of Virtual Pet Instructions) to virtual pet manufacturers. See our Polson Enterprises brochure for details.

A big thanks to Yang Reuy International Development Co., Ltd. for sending us a pair of Wedding Pets to test and congratulations to them on their new product.! See the Virtual Varmints web site for additional info.
This product review was posted 11 December 1997