Virtual Pet Farm
Keychain Pets Page 6
| | |
| --- | --- |
| | ERDM "Electronic Dinosaur Raising Machine" |
My Pets Series

| | | |
| --- | --- | --- |
| | | |
| My Chick | My Dino | My Dog |
| | |
| --- | --- |
| | |
| Petogotchi | Tamagochan |
The Petogotchi is on of the earlier pets. Some have told us they think the pet is "bear". It appears to be a dog from "card". The Tamagochan is another unit similar to the Tamagotchi. Note the similarities of the case numbers with some of the Tamagotchi versons.
RikouRikou Chan

| | | |
| --- | --- | --- |
| | | |
| Blue | White | Red |
RikouRikou Chan is a boy that grows up, goes to school, and has various careers. Notice it has 4 buttons on the left and 3 more on the right. It is one of the first units to be released that sets a "new level" of complexity for these pets. We expect the pets to continue to grow in capabilities. This is one of the first released that begins to indicate what might really be coming. You can see even more futuristic pets on our Hi-Tech Keychain Games Page
Smart Chick




Another chicken pet.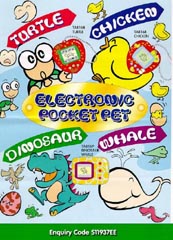 Electronic Pocket Pets
| | | |
| --- | --- | --- |
| | | |
| Pocket Turtle | Pocket Chicken | Pocket Dinosaur and Whale |
Note this is another Pocket Turtle, different than the other one.
VR Cyber Pets
Mermaid, Godzilla, Kitten, Puppy, Dinosaur
Made by MGA) Entertainment. Several folks saw these pets on QVC (home shopping network) Friday 25 July 1997.
A lady caring for Godzilla (for her son) sent us the interesting and very good description of Godzilla below on 16 August 1997.

***********************************************

I'm not really the expert on this (I've been babysitting Godzilla for my
son).
 
It has four function buttons at the bottom...options are food,  sleep,  play,
health, cleanup, status check, discipline,  and hints.  The darn thing
practically never eats or plays.  Unlike the chicken etc...Godzilla isn't
very obvious about his needs....you'd never know he needed a cleanup if you
didn't check the hints.  When sleeping, the display is a dormant
volcano....kinda fun.
 
He has five stages before death and game over.  The first stage and the last
four have definite activity charts/schedules.
 
I'm working on getting you a picture.  Frankly I'm kinda new at this online
stuff so bear with me.
 
                             Godzilla's Grandma
 

Hitorikko Pets




This series of pets comes as a Chicken, Dinosaur, Fish, or Dog. One of our readers sent us this nice graphic of their Hitorikko Chicken pet.
This page was created 18 August  1997