Allied
Marketing
Group
Allied Marketing Group offers the Octo-Pet to dealers, distributors, and stores. Minimum order is 24 pieces. Contact information is at the bottom of this page.
Allied additionally offers several other styles of virtual pets for sale to wholesalers and retailers. E-mail or fax your inquiry.

Octo-Pet includes some of the latest features:
8 pets in 1 : Frog, Alien, Cat, Chicken, Dinosaur, Dog, Panda, and a Penguin.

"Pause Button" that allows pausing the pet while you are at school or doing other activities where you cannot take the pet.

Fast Growth - allows the pet to be rapidly "aged" to a later state.

An alarm clock.

Color screen (Pet lives in a grassy knoll).

500 day history review.

1 year battery.

High resolution graphics.

Belt clip.

Competitive Pricing.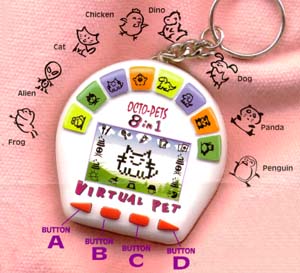 Please tell them you saw their products in the Virtual Pet Warehouse !
Attn: Justin A. Hassel
Allied Marketing Group, Inc.
999 Walt Whitman Road
Melville, New York 11747
Phone: (516) 423-8651
Fax: (516) 423-8560
E-mail: alliedmark@aol.com